Reputation management is a way to help your business gain a better online reputation. In this video, you will learn how to utilize this product.
More About Reputation Management
Customer reviews are a highly effective marketing strategy.
But your customers must spread the good word about your business for you. So, what's the best way? Using an online reputation management tool helps you generate reviews, monitor reviews and market those reviews on your website so you can build the reputation and credibility you deserve.
How it Works
Clients are sent to the review funnel where they will be able to indicate whether they had a good or bad experience.
If your client chooses to leave a good review, they are automatically directed to the sites where you want them to leave a review, such as Google or Facebook.
If their experience was poor, direct respondents along unique, contextual paths based on their answers by using custom surveys.
Benefits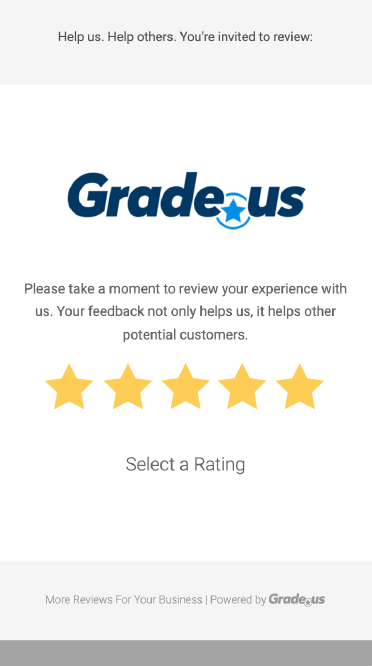 Review Generation
Get more reviews with the review funnel.
The Grade.Us core product is what we call a "review funnel"— a landing page designed to remove friction from writing reviews about your client's business.
Send emails and texts to ask for reviews.
Customers are asked to write a review from an easy-to-use review funnel.
You provide customers with multiple review site options.
More reviews from customers.
Review Monitoring
Get email alerts whenever you get a new online review

It's critical that you and your team know when you've received a new online review. Make sure your team gets notified by email.
Set up online review email alerts for you, your team, and your clients.
Monitor over 100+ industries for major and industry-specific review sites.
Easily respond to your positive and negative reviews on time.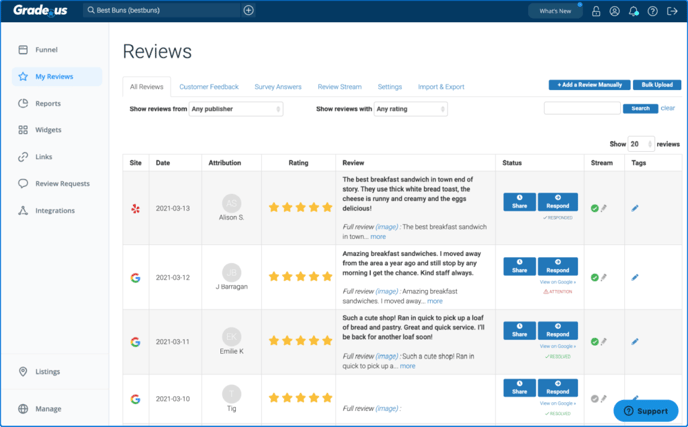 Review Marketing
Share your reviews on your website and social media

Your customer reviews provide some of the best review marketing copy that you can use.
Share reviews on your website.
Automatically publish reviews on Facebook and Twitter.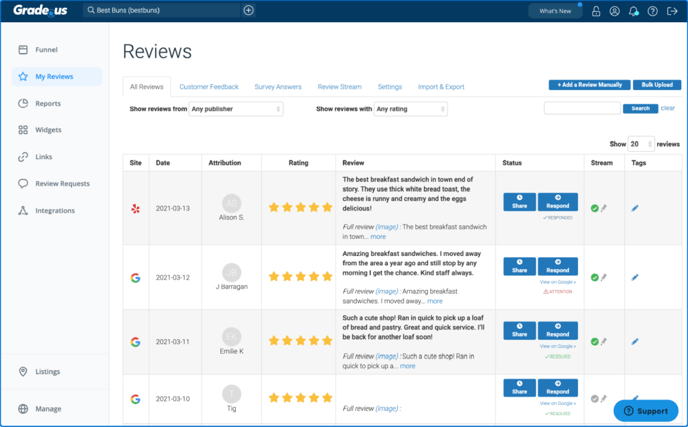 Review Reporting
Track your reviews – measure your growth and ratings.

Make sure that your review request campaigns are driving new reviews and that your review performance is improving across all of your most important review sites.
Set up daily, weekly, and monthly reports.
Use filters to capture the review management information that matters to you.