In short, Yext enhances your digital experience by leveraging a complementary set of products — including Listings, Pages, Reviews, and Search.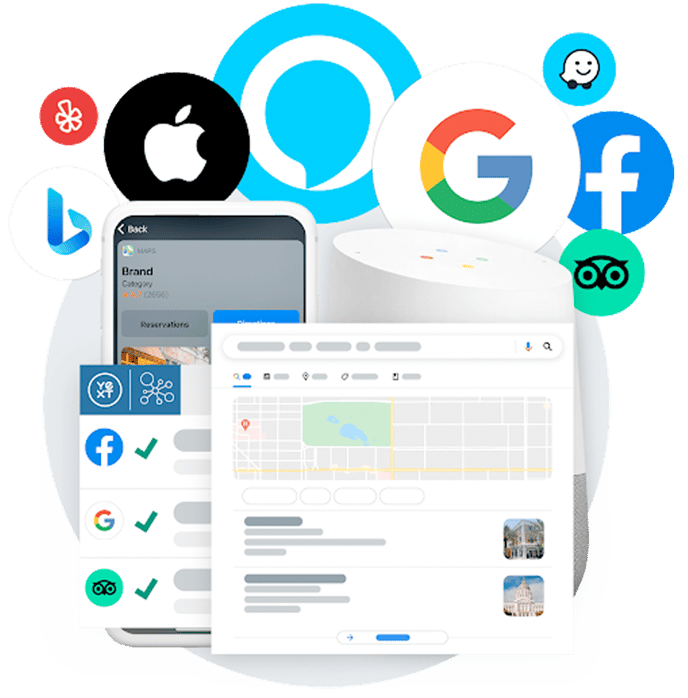 Location Listings
Provide perfect answers everywhere your customers search
Every day, consumers are going to third party search engines to discover and interact with brands. With Yext location listings, brands like yours have complete control over the brand information consumers find in third party search. Yext location listings enables you to ensure search engines surface accurate brand information across the web.
Yext location listings puts you in control of your brand facts across 150+ publishers, including Google, Amazon Alexa, Apple, and Bing. Manage all your location data in one place and scale across our entire publisher network to meet customers at their moment of intent.
1. Update once, update everywhere
The Yext knowledge graph is your single source of truth for all of your location data. Update information in one place and watch as your brand-verified location information is synced across over 150+ publisher partners across the web.
2. A vast & diverse network
Leverage Yext 's direct integrations with over 150+ publishers to create brand consistency everywhere customers are searching. All with one click.
3. Drive more business
Every place your brand appears online provides a unique opportunity to drive business. Yext makes it easy to add rich content to your listings so you can bring your brand to life wherever customers are searching.
4. See holistic search rankings performance
Don't just push data out, Yext location listings also gives you search performance insight by pulling data in. Equipped with location-specific search performance, brands can understand how much business their locations drive in a matter of minutes.
It's important that your information is correct and consistent!
43% of businesses in the US have at least one incorrect or missing address across major online directories.
Listings with rich content (photo gallery, videos, descriptions) receive 45%-61% more listing views.
4 in 5 local mobile searches result in a purchase
55% of conversions occur within 1 hour of initial mobile search